Aiming to question the dialogue between the façade and the city, Philippe Mouillon carefully draws a precise sketch-outline of the façades of the cathedral of Grenoble and distributes it to 150 contemporary artists living all around the world.
Each artist is invited to give his personal vision of this original surface, with reference to his own inner landscape, giving his own view of the space – enriched, diverted or inverted. This interpretation is bound to be uncertain, for the artists associated with this project are more or less distant from the site. They are living in a symbolic spatial paradigm, sometimes totally different from this cathedral situated in Western Europe, sometimes in a real proximity that is so obvious that it needs no interpretation…
This conjunction between local identity and planetary imagination disrupts our certitudes.
We are in 1989 and the word globalization is not yet in use, but the change of scale of our territorial marks is already perceptible.
Rissa  Ixa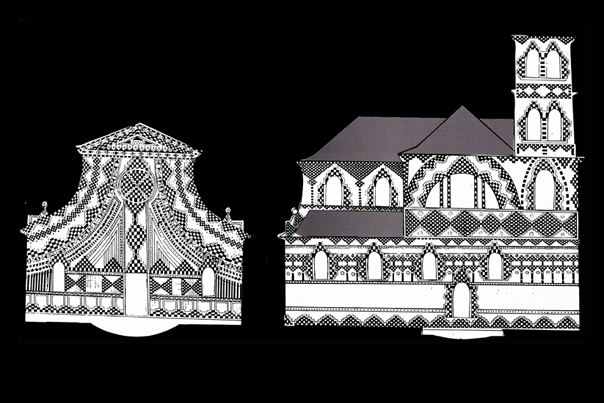 COMMENTS BY PIERRE GAUDIBERT / PIERRE RESTANY
The whole planet, in the end…
Pierre Gaudibert :
– The ambition of Façades Imaginaires is to act as an urban meeting point for planetary imagination! On the façade of Saint-Louis Church, an 18th century structure situated in the middle of Grenoble, the work of over a hundred contemporary artists from all over the world will be projected, thanks to a totally unusual operation. This is Laboratoire's latest production in a long line of innovative, multimedia, ephemeral, urban events.
Pierre Restany :
– The idea is perfectly encapsulated in the title, containing as it does a fundamental reference to a town's capacity for self-expression and its enormous reserves of forms, images, languages and ultimately poetry. An exhibition of this sort is clearly an answer to my prayers; for over 35 years I have been passionately involved with the problem of modern nature, in other words urban, industrial, advertising and media nature. What is a façade? According to the dictionaries it is above all the front of a building. But by always showing what is up front, the rest of the building is taken over by imagination and disappears into an endless maze.
A façade is the most stimulating of outward appearances, a point of departure for a host of urban fantasies. Every citizen shares this form of urban fancy, and each may draw satisfaction from it while a small number may actually find here more tangible or original inspiration.
Pierre Gaudibert :
– In this period of crisis and uncertain transition, a huge operation is under preparation to crossbreed individual, imaginary productions. An intermingling that will make possible a host of dialogues, exchanges, puzzles, hybridization, mixtures, syncretism, symbiosis, synthesis, and lastly some sort of crossbreeding. These imaginary productions are neither collective, nor anonymous, nor tribal; they express individual creativity, rooted in culture or uprooted from it, specific identities, local or nomadic, or the fruit of crossbreeding. They reflect the rich diversity of a world in the making.
Pierre Restany :
– An exemplary illustration of the language of modern, urban nature is to be found in the work of the new, European realists, who have highlighted this type of reality admirably and the many ways of appropriating it. Compression, accumulation, packets, targets and traps, lacerated billboards; these are all variations on the theme of urban imagination and its appropriation. And now some thirty years later, Philippe Mouillon has rediscovered this fundamental theme, updated it. The timing of the event is perfect, coinciding with the collapse of industrial society and the rise of post-modernism! The Façades Imaginaires concept contains all the possibilities for self-expression normally found in urban, industrial folklore but simultaneously transcends formal appearance in the name of man and his imaginative fantasy.
Pierre Gaudibert :
– This is of considerable importance: it represents the dual refusal of standardization by the dominant mass cultures and a standard, uniform, "international" art, insipid and monotonous. Crossbreeding does not necessarily involve removing differences. On the contrary it may generate new, plural identities and enrich individuals and peoples. It announces the decline of Euro-centrality.
The world-wide artistic heritage which is in the process of developing, for tomorrow, will be born of such encounters, which will proliferate to cover the whole planet, in the end…