The first session of the Landscape Surveys entitled Four Centuries of Digital Landscapes? was held on Wednesday 21 October 2015 at the Musée de Grenoble, on the occasion of the exhibition paysages-in-situ, presented at the Musée de Grenoble and the Musée Hébert from 19 September to 2 November 2015 and extended to 18 January 2016.
In presence of: François Jullien (philosopher and sinologist), Guy Tosatto (director and chief curator at the Musée de Grenoble), Laurence Huault-Nesme (art historian, director of the Musée Hébert), Jean Guibal Daniel Marnaud (architect), Joël Candau (anthropologist), Guillaume (architect), Daniel Bougnoux (philosopher), Michael Jakob (landscape historian and theorist), Maryvonne Arnaud Monsaingeon (philosopher and curator), Alain Faure (politiste), Henry Torgue (sociologist, composer), Luc Gwiazdzinski (geographer, director of the Institute of Alpine Geography), Philippe Mouillon (artist)
Animated by Chloë Vidal (philosopher and geographer), this first survey of landscapes proposes to renew our gaze on the landscape, to ask ourselves "what made landscape" at the time of the digital life,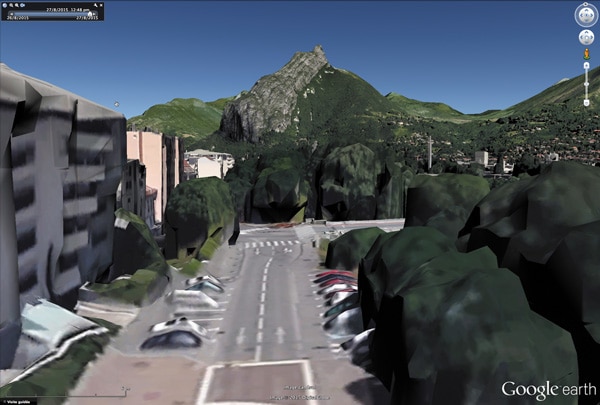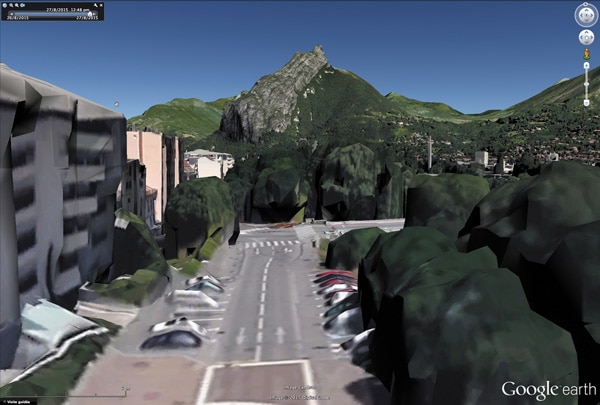 Digital landscape extracted from landscapes-in-situ (2015) latitude: 45,182 / longitude: 5,696
As a prelude to this seminar, Le Méliès in Grenoble, presented a preview of Patricio Guzman's latest film, Le bouton de Nacre. The session, introduced by Bruno Thivillier, director of Le Méliès, is followed by a conversation between Patricio Guzman, Yves Citton (philosopher, professor of French literature of the eighteenth century at the Stendhal University of Grenoble 3) and Philippe Mouillon.
This film blends poetry and politics wonderfully, using nature in an astonishing and magical way: there are landscapes populated by immense silent glaciers that blend with majestic fjords – immutable witnesses of the past, but also tormented oceans and planets lost in The infinite of the starry heavens. These images of a wild and primitive nature, filmed like that of a forgotten planet that would be almost intact and virgin, bring us back to a world of origins where, little by little, through the black and white photographs of Indians " Fueguinos "emerge the unknown faces of the missing people.
"These natives lived for thousands of years in Patagonia, and belonged to several groups (the haush, kaweskar, and sélknam), and they spoke mysterious tongues, nomads of water, Island in the island, guided by the stars " Patricio Guzman
Than, François Jullien  develops a conference at the Grenoble Museum's auditorium (animated by Daniel Bougnoux) entitled "Living from Landscapes": "Landscape is a resource that is accessible to everyone because it does not involve learning. The fact that the landscape is local and makes the world, is borne by a totality, is important for the subject, the landscape opens the room on its transcendence , It is a whole of the world, it is essential to the contemporary experience. "
  "In what way is a landscape exemplary of the diversity to be promoted in the world to come? But first of all in that it is a landscape, if it is precisely that one passes from the dreary extension – Uniformity – from space to the intensity of a place – for the more it creates diversity and, consequently, tension, the more a landscape is actualized: a landscape is this extensive. Makes us pass from knowledge to connivance, it tilts into intimacy and complicity, dwells at the same time that we inhabit it, who knows not how much a landscape is a resource, that we draw there indefinitely. Its tension, it reactivates us and harmonizes us at the same time? " François Jullien
"Looking at one thing and seeing it are two very different things, you only see something if you see the beauty … Now people see fogs, not because they are, but because Poets and painters have taught them the mysterious beauty of these effects.Flowers may have existed for centuries in London, and I dare say that there were, but no one has seen them and so we do not know They did not exist until the day when art invented them. " Oscar Wilde The Decline of Lying (1928 page 56)