Texts by Daniel Bougnoux, Jean-Pierre Chambon, Luc Gwiazdzinski, Henry Torgue, Philippe Mouillon, Bernard Mallet, Xochipilli
Images by Maryvonne Arnaud.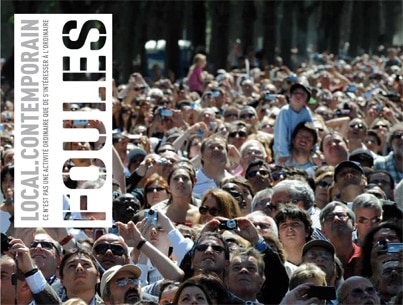 No-one likes a crowd. A crowd is the exact opposite of the individual as king of all he surveys, who in contemporary ideology is persuaded he is at the centre of the universe, making his own choices, divorced from all social pressures.
The media would have us all believe that crowds exist in menacing countries and are from another era: political cohorts in Iran, religious ones in Burma, the masses suffering floods or earthquakes, or more than that, in wealthy countries, the memories of political movements no longer current: political demonstrations, liturgies of anger…
In day to day life, the word "crowd" is no longer proffered to describe those flocking to shopping centres, the conspicuous collective consumption, the traffic jams repeated over and over in the suburbs or our systematic use of public transport.
Nontheless, if pushed from the forefront of our minds, relegated to "elsewhere" or "in the past", crowds are never far from our lives. Public audiences consistently gather us to one spot, while the media and the latest communication technology form the crowds of our modern age.
Trying to make ourselves aware of the fantastic potential energy of our collective lives, this is a burgeoning vista of aspects of "being together" before it becomes just part of everyday normality for the masses. It's a major issue because we can never escape being part of a crowd.